Bookmark Manager

Linkman is a bookmark manager that efficiently organizes large numbers of bookmarks. Linkman directly integrates with Google Chrome, Firefox, Internet Explorer, Opera browsers, and supports many other browsers. Synchronizing bookmarks between different browsers and among computers is also possible. You get the choice to manage your bookmarks by keywords only, folders only, or folders and keywords. Linkman will extract keywords from web sites and update moved web addresses. The bookmark collection can be protected by a password. With a screenshot tutorial, an introduction video, and a comprehensive PDF manual, getting started has never been easier!

Let's face it -- the browser bookmark management was designed with the casual internet user in mind. But for some of us, links and bookmarks are a part of our daily work lives. Things start getting unwieldy and slow when our bookmarks start numbering in the thousands (and for some folks, even ten thousands!). But thanks to the bookmark manager Linkman, bookmark management is a joy! Linkman stores your bookmarks in local, extremely fast, easily backup-able XML databases, and is known for providing 15 years of high data security. Because of constant updates Linkman is the only bookmark manager to support the latest web browser editions.
click here to show differences between Linkman Lite and Linkman Pro
Linkman Lite (free)
Linkman Pro ($24.95 | €19.95)

licensing
private, non commercial
no restrictions
number of bookmarks
2 x 5.000
unlimited
data format
XML
XML
browser support
Firefox, Internet Explorer, Google Chrome, Opera, 5 other browsers
Firefox, Internet Explorer, Google Chrome, Opera, 7 other browsers
diary feature
database history backup depth
2
9
synchronization support
multiple browsers, one computer
multiple browsers, multiple computers
search features
search, query
search, query, search & replace, favorite searches list, keyword list
web icons
additional keyword features
keyword list, add keyword to multiple bookmarks, replace keywords
URL functions
retrieve keywords, description
retrieve keywords, description, missing names, meta tags, web icons; check URLs for dead links, intelligent (only major) content changes, and page movements
import formats
> 7
> 9
html/xml export
static html pages
export templates
bookmark manager mobile usage
support for Dropbox, Google Drive, Skydrive, Box bookmark synchronization; optional installation on USB sticks (portable version)
I don't think I've ever seen an already good software program make so many useful improvements in so short a period of time. I was especially pleased to see the excellent and unobtrusive integration with Firefox. Also, it has just about the most responsive tech support I've ever encountered!

Joan Korenman
Center for Women and Information Technology

Linkman is by far the best solution we've tried for keeping your bookmarks safe and up to date.

Many people probably think they don't need anything beyond what comes standard with Internet Explorer or Firefox in the form of "Favorites" or the autocomplete address bar. If that is the case, well, you are all missing out on the conveniences of using a great bookmark manager like Linkman.

Aram Chavdarian
DCMembers Linkman Review
Sync Bookmarks across all browsers and computers
With Linkman (both Lite and Pro editions) you can sync bookmarks across all of your browsers. If you add a new bookmark in one browser, for example Google Chrome, the bookmark becomes immediately synchronized, and you can access it through the Linkman Addons in Firefox, Internet Explorer, and the Opera browser. With Linkman Pro you get additionally support to sync your Linkman XML bookmark databases between different computers. You can use most of the free synchronization services. Linkman Pro has build-in support for Dropbox, Google Drive, Microsoft OneDrive, Syncplicity, Sky Backups, FilesAnywhere, Backblaze, SpiderOak, KeepVault, Wuala, and several others. Alternatively you can can install Linkman Pro on a USB stick (if you don't want to entrust your personal data to the Internet).

If you're headed someplace where you know you'll be using a computer you've never seen before, you can start Linkman Pro from the USB stick, and pick up just like as if you were sitting in your own office! Linkman bookmarks databases can be protected with a password to maximize your privacy. Since Linkman (both Lite and Pro editions) can maintain two separate databases at the same time, you have the option to place your private links into a second, password protected database, or separate your work-related and private bookmarks. Linkman will search both bookmark databases at the same time, directly from all the browsers.
Search features in the bookmark manager Linkman
The bookmark manager Linkman offers advanced search capabilities. Just start typing a keyword and results will appear in less than a second. Even if you have A MILLION links in your collection! If you're storing up to 100.000 links, search results are INSTANTANEOUS! You can combine wildcards (*keyword*) and operators: AND (default), AND NOT, OR, "-" sign in your searches. You can also search for phrases ("phrase") and utilize a powerful Search and Replace feature. Example: a search for bookmark manager -online will find all links containing the keyword bookmark AND the keyword manager, but NOT containing the keyword online.
Backup Bookmarks
You can easily backup bookmarks with Linkman. After you import bookmarks from Firefox, Internet Explorer, Chrome, Opera or start from scratch, Linkman will store your bookmarks in a XML database. The file location of the database is displayed in the middle of the main window. You can set a new location by selecting File | Save As from the menu. This way it's very easy to backup bookmarks. Just copy the Linkman database to your backup medium. Since Linkman allows you to use two databases at the same time (see screenshot to the left) make sure to backup both databases in that case. If the file path is too long and displayed with "..." just go with your mouse over the label to get the complete file name as a tooltip.
User defined bookmark data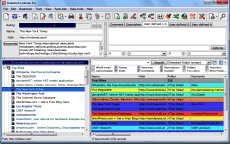 Along the usual bookmark data elements like name, path, keywords, description and comments, Linkman offers you user defined bookmark data. This way you can store information specific to your needs. For example you can configure a combo box to display a list of languages and enter a website language for every of your bookmarks. Another example (useful for media editors) would be to take an extra memo field and name it review. All user defined fields can be also accessed when creating export templates. You get also the ability to configure the rating system. Define the minimum and maximum rating values, labels and colors as you like!
Copyright (c) 1999-2023 Outertech. All Rights Reserved.