Linkman Firefox Addon
| | | | | |
| --- | --- | --- | --- | --- |
| | The bookmark manager Linkman offers a signed Firefox 57+ Addon to allow you a direct interaction with Linkman in the browser. The addon is installed automatically when you install Linkman. It can also be installed manually. Make sure you are visiting this page with Firefox 57+ and then click here to reinstall the LinkmanFox Addon. | | A legacy addon for Firefox below version 56 and the Palemoon browser is available here. If you get an error message telling you that the addon is corrupted use the alternative installation methods. Right-click here and select SaveAs in order to save the LinkmanFox.xpi file to your desktop. Then drag & drop the LinkmanFox.xpi file from desktop to your Firefox <= 56 or Palemoon window. | |
Problems installing Linkman.xpi file?
If you have problems installing the Linkman Firefox / Palemoon Addon, either because of a Firewall or a version mismatch inside Firefox, please download the Addon first by right clicking here and selecting Save Link As. Choose Desktop as download location for the LinkmanFox.xpi Addon file.

Then follow the instructions in the two screenshots below to add the LinkmanFox.xpi file as Addon to Firefox 56 / Palemoon.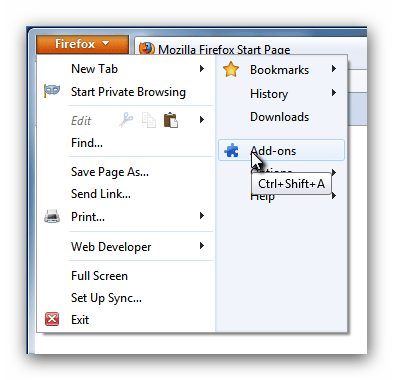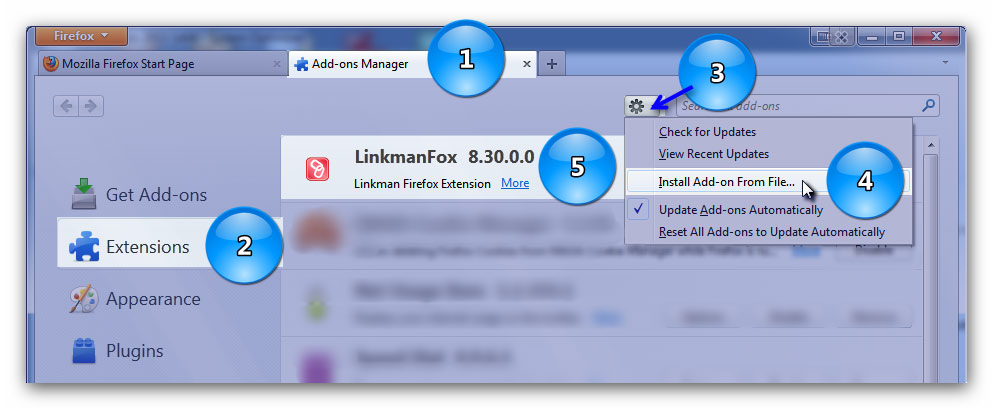 In the search window, Linkman uses wildcards and operators to combine search terms. AND (DEFAULT), OR, AND NOT and the '-' sign can be used. Example: a search for backup software -usb will find all links containing the keyword backup AND the keyword software, but NOT containing the keyword usb.
Firefox and Linkman communicate over TCP/IP port 80.
If you use this port for another application you can configure Firefox and Linkman to exchange data other a different port (Addons | Extensions | LinkmanFox | Options).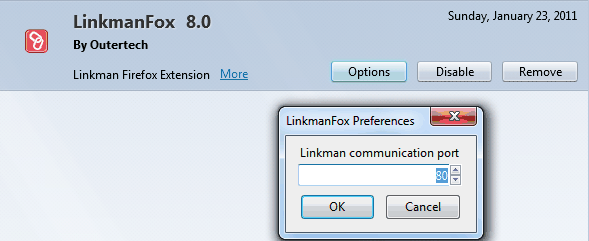 The communication port must be also changed in Linkman (Tools | Settings | Browser).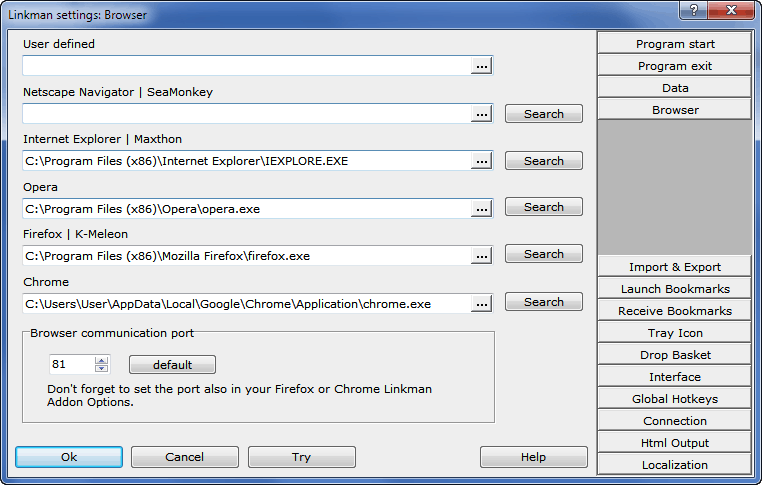 Copyright (c) 1999-2023 Outertech. All Rights Reserved.