Clipboard History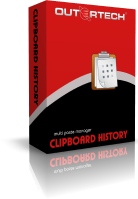 Many users feel the need for an improved Clipboard, because storage for only one piece of text at a time is just not enough. Clipboard History lets you paste up to hundred Clipboard text entries into any application. Just press the usually idle Caps Lock key and a paste menu will be shown.

If you would like another hotkey (e.g. Alt + C) for this menu, you can configure it in a minute. Both the Caps Lock key and the user defined hotkeys work from all Windows applications. Not a fan of hotkeys? You can use the Tray Icon to access to Clipboard History text items!
| | | |
| --- | --- | --- |
| | Clipboard History Lite (free) | Clipboard History Pro (30 day free trial, $24.95 after) |
| licensing | no restrictions including commercial usage | no restrictions including commercial usage |
| paste menu works in every application | | |
| optional cloud synchronization | | support for Dropbox, Google Drive, OneDrive, and many others |
| archive (permanent database) | | |
| language support | western/latin languages | all languages (Unicode) |
| Sticky categories (sub menus) | | |
| Rich Text Format support | | |
| HTML -> RTF auto convertion | | |
| optional portable version | | |
| optional AES encryption | | |
| history depth | 2..20 | 2..100 |
| archive depth (includes history) | 0 | unlimited |
| permanent text clips (stickies) | 2..20 | unlimited |
| data format | Registry Text | JSON |
| search | | |
Full feature list
quickly accessible menu (Caps Lock key) of text items copied to Clipboard
alternatively a user defined hotkey to show the menu
works within any Windows software
optional password protection and AES encryption
support for permanent text clips (Stickies)
history can optionally persist across Windows reboots/shutdowns/logoffs (default on)
archive feature to store any text ever copied to clipboard
optional cloud synchronization between multiple computers
intuitive user interface with inline help
installation and configuration can be accomplished within a minute
Tray Icon to access text items previously copied to the Clipboard
retains text formatting (optionally)
automatically fixes multiline browser links copied to Clipboard by removing line feeds and white spaces
filters can be applied for text items you don't want to remember
optional portable installation to USB sticks
maximal size for text items to store can be configured
self-repair feature if other programs break the Clipboard monitoring chain
function to clear Clipboard content
JSON data format
displays Clipboard text content as Tray Icon Tooltip
free version with less advanced features also available in the download section
Copyright (c) 1999-2023 Outertech. All Rights Reserved.